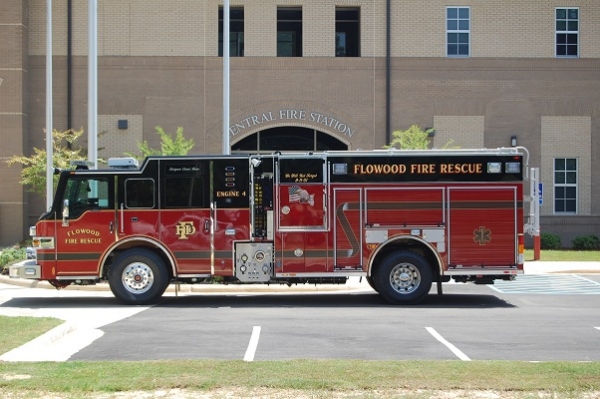 The Flowood Fire Department has a long and distinguished history of service that began in 1973 as an all volunteer group. The departmental by-laws were established Oct 7, 1974 and Chief David Anding was elected to serve as the first volunteer fire chief for the city. Resources were scarce in those days with an annual budget of only $120.00 supporting less than a dozen firefighters and one fire engine. Today, the department is quite different in that the annual budget exceeds over 3.5 million dollars with sixty-nine professional firefighters, and four fire stations. The equipment has changed as well from the early years with the department responding with four engines, one rescue unit and three ladder trucks. The department now has the capacity to perform technical rescues such as trench collapse rescue, confined space rescue and rope rescue operations. With the majority of our calls being related to medical emergencies, the department has nine certified Paramedics on staff in the department. Indeed the times have changed for us all!
Department Profile
Number of calls 2017:  1,889
Average response time per call:  3.5 minutes
Percentage of Medical Calls:  79%
Percentage of Fire Calls:  18%
Percentage of Other:  4%
Fire Protection Rating Class:  3
Combat Division:  63 firefighters
Fire Prevention Division:  2 Inspectors/Public Education Officers
Administration Division:  3
The department has had five different Fire Chiefs over the years with each one contributing and building the department as the city has grown. The first full time paid chief was Billy Bush who served from 1981 until 1999. Chief Bush had the daunting task of developing a fire department from a combination department of volunteer s and paid firefighters to an all paid professional department. In those days the department had only one station and three paid men total on staff. Chief Bush was instrumental in moving the city from a Class 9 to a Class 5 during his tenure. After Bush retires, W.F. White takes over command serving from 2000 until 2005 and begins to shift more emphasis towards code enforcement and building inspections. The third chief to serve the department was Jake Busby serving from 2005 until 2007. Chief Busby was the first Flowood Firefighter to progress through the ranks from firefighter to the rank of Deputy Chief and then finally as Executive Fire Chief at the end of his career. Chief Busby was instrumental in initiating the Paramedic program as well as increasing the number of firefighters. During Chief Tim Pace's time the city built two new stations and a state of the art training facility that is second to none.   Following his retirement in October 2013, the position was held open until the current Chief Jeff Welborn took the reigns in December 2013. In 2018, the Flowood Fire Department received a Class 3 fire rating.