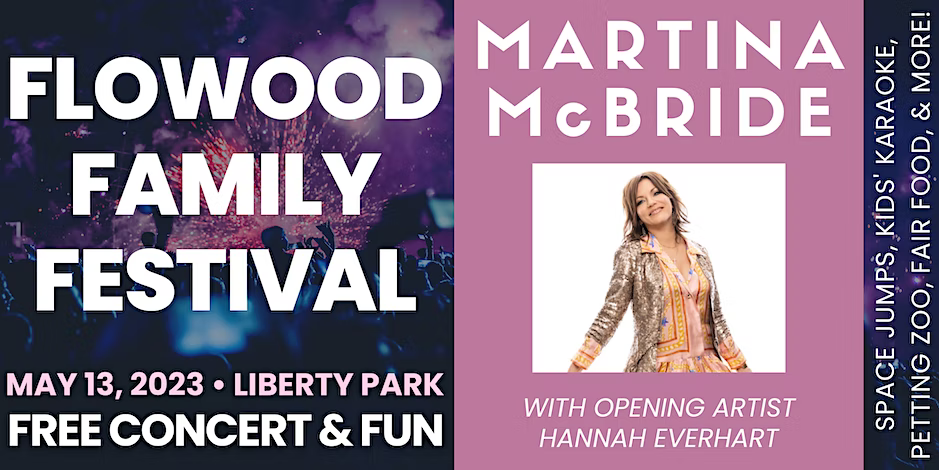 The Flowood Family Festival will return to Liberty Park on May 13 and feature Country Music Hall of Fame star and four-time Country Music Association Female Vocalist of the Year recipient, Martina McBride, as the headliner. Martina McBride is one of the most successful singer/songwriters of the modern era, selling over 23 million albums to date and producing 20 Top 10 singles and six No. 1 singles.
This year's event takes place on Mother's Day weekend and will be the first to showcase two female country artists at the festival's free concert. American Idol Season 19 participant and Mississippi's own, Hannah Everhart, will take the stage at 6:45 p.m. ahead of McBride. Everhart competed in the Top 24 of American Idol and is known for her blues, southern rock style of country singing.
Since 1999, the Flowood Family Festival has kicked off the summer season with live music, local eats, and fun activities in a family-friendly environment. Free admission is made possible by the City of Flowood and Parks and Recreation sponsors.
The festival will open at 4 p.m. with space jumps and activities for the kids, food vendors from local Flowood restaurants, and music from a live DJ. A fireworks display will follow McBride's performance, which begins at 8:30 p.m.
For more information, visit cityofflowood.com or contact the Parks and Recreation Department at 601-992-4440.