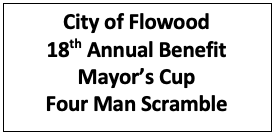 The City of Flowood will be hosting the 18th Annual Benefit Golf Tournament at the Refuge Golf Course
August 19th and August 20th
All net proceeds raised will go towards helping Northwest Rankin Cougar Club. This application lists several ways you can participate.  We are offering spots for sponsorships, contributions and TEAMS!  All rules will be interpreted by the golf professionals at the Refuge.  Breakfast, Lunch and Beverages will be provided for all participants on the days of the tournament.

• Ace Sponsor $10,000.00                    • Contributor of Goods & Prizes            • Team $500.00
• Double Eagle Sponsor $5,000.00             • Player $125.00• Eagle Sponsor $2,500.00                    • Par Sponsor $500.00
• Birdie Sponsor $1,000.00                        • Hole Sponsor $200.00                         • Mulligan @ $5.00 Each
        TEE OFF TIME: (circle one)
• August 19th (Thursday) A.M.    P.M.
• August 20th (Friday) A.M.    P.M.

or
Downloadable Registration Form